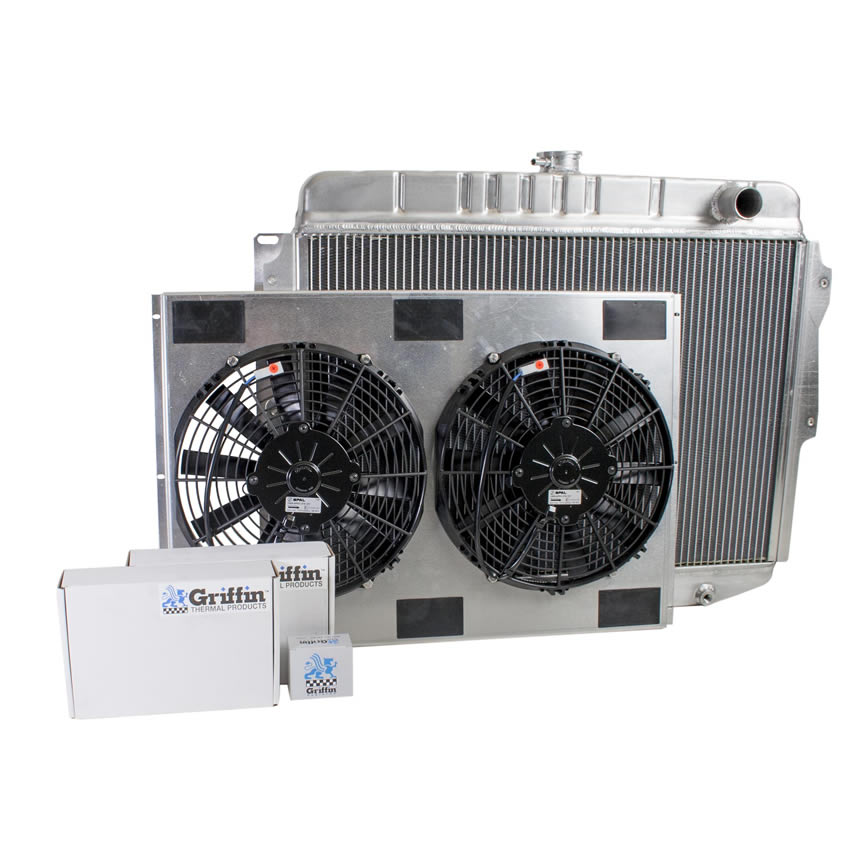 Radiator 26 inch 70-74 B/E Body 70-72 B 345 392 Gen III Automatic dual fan Exact Fit
$1,155.00
Description
RADIATOR ASSEMBLY 26″ GEN III 392 6.4 and 345 5.7  HEMI INSTALLATION 70-72 B BODY/70-74 E BODY W/ TRANS COOLER
This Is Our Bolt -in/Drop-in/Resembles Original Style Extreme Heavy Duty Aluminum Radiator Assembly for Gen III Hemi Installations. It comes complete with Custom Aluminum Shroud with HD SPAL Fan, Electronic Fan Controller and Sender, and Air By Pass flaps already assembled and installed. Just wire your controller and mount your sender and you are done. Radiator Core support Opening is 26″. Comes with our "State of the Art" 2 Row X 1 1/4″ Core for Excellent Cooling Ability. The Top Tank Resembles the Old Style Blackstone Tank found on most Older Muscle Cars.
Works with:2005-2008 5.7L LX (Car & Grand Cherokee Engines),2005-2010 6.1L LX & WK (Car & Grand Cherokee),2011-2015 6.4L Car & Grand Cherokee Engines, Most ALL 6.1L & Non VVT 7.0L Based Crate Engines (Mopar Performance & Most Aftermarket Engines) with Right Side Lower Radiator Hose and Right Side Thermostat Outlet Nipple
70-72 B BODY, 70-74 E BODY 26″ WITH TRANSMISSION COOLER
Proudly Manufactured in the USA by Griffin Radiator for Bouchillon Performance Engineering
NOTE: 1-Fits 1970-1972 B-Body & 1970-1974 E-Body with 26″ Radiator Support (Core Support) Opening…measure left to right for proper opening width
2-Will Not Work with 2003-2008 DR 5.7L Dodge Truck Engines, which had Right Side Lower Radiator Hose and Left Side Thermostat Outlet Nipple
3-For Molded Radiator Hoses, use 2-20609G
4-Use S6074X Stainless Overflow Tank to Complete Installation (Not Included)
5-On A/C Applications, use BPE-6665 Trinary Switch to control fan operation when A/C is on. It, along with Electronic Fan Controller on this Radiator will only allow Fan to run when required. Fan Operation, generally is not needed at 50 mph highway speeds or when A/C Compressor is First Cut on.
6-This Radiator is generally used on Automatic Transmission Vehicles, since there is a Transmission Cooler Built In
7-Inlet & Outlet Nipple Diameters 1 3/4″
---
Only logged in customers who have purchased this product may leave a review.