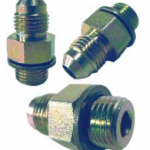 Power Steering Box Fitting 0-Degree
$10.00
Description
Used When Going To A Saginaw Pump & Line, and Your Current Steering Box Fitting Is The Incorrect Size. This Replaces
That With The Correct Fitting Size To Fit The Saginaw Line. Changes From 1/4″ SAE to 5/16″ SAE.
FITS: 1962-1968 A, B, & C Bodies.
Allows Use of Saginaw Power Steering Pump & Premade BPE Power Steering Lines / Hoses
Sold individually
---
Only logged in customers who have purchased this product may leave a review.