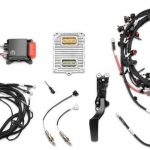 Hellcrate 6.2L SC Crate HEMI® Non-E.O. Engine Kit (2021-2023) – Mopar (77073010AA)
$2,895.00
Description
This kit ONLY is for use with Hell Cat Create engine number 68303089AC
Does not work with any other engine part number
Product ID:77073010AA
Description:

This Hellcrate 6.2L SC Crate HEMI® Non-E.O. Engine Kit includes:
• Accelerator pedal
• Engine wiring harness
• Chassis harness
• Power distribution center
• Ground jumper
• CAN Bus Interface device
• Fuel pump control module
• Wideband O2 sensors
• PCM
• Charge air temp. sensor*Engine sold separately: Hellcrate 6.2L Supercharged Crate HEMI engineNote: This kit is designed for 2021-2023 model year 6.2L Supercharged engines

Warranty:

Parts warranty: 24 months UNLIMITED miles, Vehicle warranty: 3 years or 36,000 miles, Powertrain warranty: 5 years or 60,000 miles

Disclaimer:

Emissions: NON-E.O. CONTROLLER KITS ARE DESIGNED FOR INSTALLATION IN: 1. ANY MOTOR VEHICLE MANUFACTURED PRIOR TO MODEL YEAR 1976 OR 2. COMPETITION VEHI-CLES DRIVEN ON TRACKS OR OFF-ROAD. Vehicles manufactured 1976 and later equipped with this part should not be driven on public roads or highways. Mopar customers are responsible for ensuring that their use of their vehicle equipped with this part complies with applicable federal, state/provincial, and local laws, regulations, and ordinances. Vehicles manufactured 1976 and later equipped with this part and driven on public roads or highways may violate U.S., California, Canadian, or local motor vehicle emissions laws and regulations.Not legal on pollution-controlled vehicles or vehicles registered for highway use.
WARNING: California Proposition 65
---
Only logged in customers who have purchased this product may leave a review.