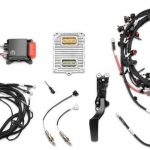 Hellcat 6.2 PCM wiring management kit
$2,895.00
Description
6.2L HELLCAT Complete Computer Management Kit 707 HP
This complete Kit, designed by Mopar Performance, has all the components to get you up and running fast.
Kit Includes 11 parts:
1 Engine Harness,
1 Pre Programmed Computer,
2 Oxygen Sensors,
1 Air Charge Sensor,
1 Computer Management Fuse Block,
1 Fly By Wire Accelerator Pedal,
1 ground jumper
1 intake duct
1 can bus module
1 Fuel pump module
and Instructions.
The Actual Kit is designed to work with the 6.2L Hellcat Engines only.
The Kit (as designed) is only suited to work with manual transmissions or NON computer shifted automatics. This kit will not work with any computer shifted transmission , including: A580/NAG1, 545RFE, Torqueflite 8 speed , ZF or any newer computer managed transmission
NOTE:1 This management Kit will only work properly with 6.2L HellCat Engines
If you Purchase this Management Kit along with our 6.2L Engine Assembly, your package is warranted for 2 years from the date of purchase by FCA (Mopar Performance). Engine and management system has to be purchased at the same time and must be on the same sales receipt to qualify. call for further details
PCM is unlocked and can be re-programmed
This Package WILL NOT WORK ON EARLIER 5.7L, 6.1L, AND 6.4L ENGINES
---
Only logged in customers who have purchased this product may leave a review.