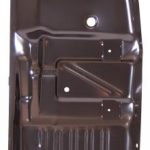 Front Floor Pan Half LH 71-72 Demon 73-74 Dart Sport 67-69
$260.00
Description
Front Floor Pan Half – LH – 71-72 Demon; 73-74 Dart Sport; 67-69 Barracuda; 70-74 Duster; 67-71 Valiant
If you need repairs in a small area then check out our floor pan halves. They are cut from our OE style full floors and have the same dimensions front to rear. Outside edge will meet with rocker panels and inside includes approximately 4-6 inches of the transmission hump.
Ships complete with: (See corresponding number in additional image above)
1.Seat hook bracket
2.Speedometer cable bracket
3.Emergency brake cable bracket
4.Seat belt bolt anchor
1973 Dodge Dart Sport
1974 Dodge Dart Sport
1971 Dodge Demon
1972 Dodge Demon
1967 Plymouth Barracuda
1968 Plymouth Barracuda
1969 Plymouth Barracuda
1970 Plymouth Duster
1971 Plymouth Duster
1972 Plymouth Duster
1973 Plymouth Duster
1974 Plymouth Duster
1967 Plymouth Valiant
1968 Plymouth Valiant
1969 Plymouth Valiant
1970 Plymouth Valiant
1971 Plymouth Valiant
---
Only logged in customers who have purchased this product may leave a review.