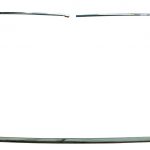 71-72 Demon 70-76 Duster 73-76 Dart Spot Windshield Molding Set
$300.00
Description
Windshield Molding Set – 71-72 Demon 70-76 Duster 73-76 Dart Sport
Finish your windshield installation with a new set of AMD moldings. Our moldings are made of stainless steel like OE and fit the factory style clips for ease of installation. Installation clips are not included and should be purchased separate.
5 piece set.
1973 Dodge Dart Sport
1974 Dodge Dart Sport
1975 Dodge Dart Sport
1976 Dodge Dart Sport
1971 Dodge Demon
1972 Dodge Demon
1970 Plymouth Duster
1971 Plymouth Duster
1972 Plymouth Duster
1973 Plymouth Duster
1974 Plymouth Duster
1975 Plymouth Duster
1976 Plymouth Duster
---
Only logged in customers who have purchased this product may leave a review.