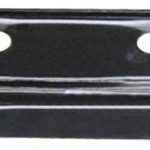 Rear Crossmember Reinforcement – LH – 68-70 Dodge Plymouth B-Bod
$33.00
Description
Rear Crossmember Reinforcement – LH – 68-70 Dodge Plymouth B-Body (Except Charger)
Welds to each outer side of rear crossmember (870-1468) and reinforces the area where the bumper brackets attach. If you're replacing a crossmmeber you will need a LH/RH pair of these items.
1968 Dodge Coronet
1969 Dodge Coronet
1970 Dodge Coronet
1968 Dodge Super Bee
1969 Dodge Super Bee
1970 Dodge Super Bee
1968 Plymouth Belvedere
1969 Plymouth Belvedere
1970 Plymouth Belvedere
1968 Plymouth GTX
1969 Plymouth GTX
1970 Plymouth GTX
1968 Plymouth Road Runner
1969 Plymouth Road Runner
1970 Plymouth Road Runner
1968 Plymouth Satellite
1969 Plymouth Satellite
1970 Plymouth Satellite
1970 Plymouth Superbird
---
Only logged in customers who have purchased this product may leave a review.