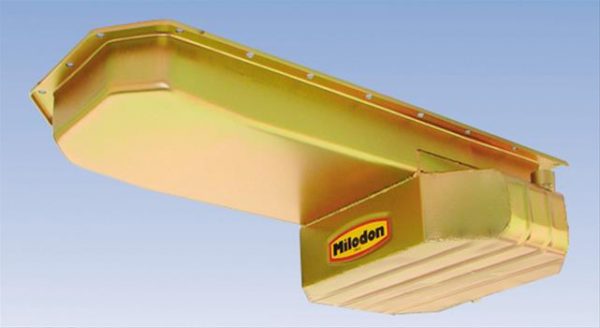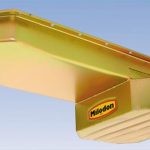 Oil Pan 5.7L 6.1L 6.4L Rear sump Milodon
Description
Milodon Rear sump Oil Pan 5.7 6.1 6.4
Sump Style:Wet
Stroker Clearanced:Yes
Maximum Stroke with OE Rod:4.080 in.
Dipstick Provision:No
Dipstick Included:No
Sump Location:Rear
Oil Pan Capacity:7.00 quarts
Oil Pan Depth (in):5.500 in.
Oil Pan Material:Steel
Oil Pan Finish:Gold iridited
Baffled:Yes
Kicked Out:Yes
Kickout Position:Driver and passenger side
Windage Tray Included:No
Pickup Included:No
Oil Pump Included:No
Oil Pump Driveshaft Included:No
Crank Scraper Included:No
Drain Plug Thread Size:1/2-20 in.
Gaskets Included:No
Hardware Included:No
Quantity:Sold individually.
Notes:Designed for very low street trucks requiring a baffled pan for competition use. Allows use of factory dipstick, Clears all steering. Oil pan front depth is 2.875 in. Pan capacity is 6 quarts plus filter. Will also fit 6.1L Hemi engine.
---
Only logged in customers who have purchased this product may leave a review.