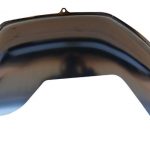 Inner Wheelhouse – LH – 66-70 Dodge Plymouth B-Body
$110.00
Description
Inner Wheelhouse – LH – 66-70 Dodge Plymouth B-Body
Inner wheel houses are often rusted or bent on the lower edges so it makes sense to replace them when working on the outers. Replacing or repairing inners is also a good idea when replacing a trunk floor. Our inner houses contain all the bends, flanges, holes, etc. of originals.
1966 Dodge Charger
1967 Dodge Charger
1968 Dodge Charger
1969 Dodge Charger
1970 Dodge Charger
1968 Dodge Coronet
1969 Dodge Coronet
1970 Dodge Coronet
1968 Dodge Super Bee
1969 Dodge Super Bee
1970 Dodge Super Bee
1966 Plymouth Belvedere
1967 Plymouth Belvedere
1968 Plymouth Belvedere
1969 Plymouth Belvedere
1970 Plymouth Belvedere
1967 Plymouth GTX
1968 Plymouth GTX
1969 Plymouth GTX
1970 Plymouth GTX
1968 Plymouth Road Runner
1969 Plymouth Road Runner
1970 Plymouth Road Runner
1966 Plymouth Satellite
1967 Plymouth Satellite
1968 Plymouth Satellite
1969 Plymouth Satellite
1970 Plymouth Satellite
1970 Plymouth Superbird
---
Only logged in customers who have purchased this product may leave a review.