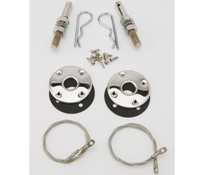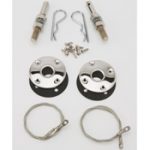 Hood Pin Kit with 13 inch lanyards 70-76 Duster 71-72 Scamp
$59.00
Description
DMT Complete Stainless Steel Hood Pin Sets with 13″ lanyards and all required hardware for steel hood applications on 70-76 Dusters and 71-72 Scamps (Scamps have Duster front ends).
1970 70 1971 71 1972 72 1973 73 1974 74 1975 75 1976 76 Duster
1971 71 1972 72 Scamp
FYI The factory used 13″ lanyards but customers tell me the 13″ seems too tight and usually select the 18″ kit instead. 
These are the nicest, most correct hood pin sets.
Have 18″, 23″ and 25″ lanyard versions.
Also have the 6″ rubberized lanyard sets used on fiberglass lift off hood cars.
Lastly have sets with different bezels and pop rivets for fiberglass hood cars.
Materials
EVERY PIECE is Stainless steel.
Factory pieces were chrome plated steel and rusted.
Other reproduction hood pin sets have some stainless parts like the main stud and the bezel. But the nuts, washers, clips and even the lanyard cables are steel, chrome plated steel or zinc plated steel and those rust..
---
Only logged in customers who have purchased this product may leave a review.