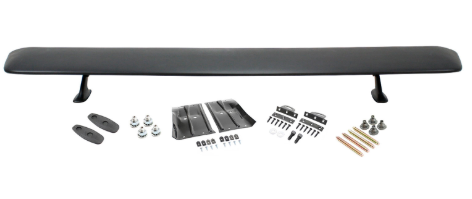 Gull Wing Spoiler Complete Kit 71-74 Challenger in Organisol
$575.00
Description
First Place Concours quality reproduction "Gull Wing" Rear Wing Spoilers are engineered to include OE specifications and dimensions, but these spoilers are much lighter than the originals. The spoiler blade of the Gull Wing is molded to be about half the weight of an original spoiler blade and is warp resistant. Each wing blade is constructed of a rigid ABS based thermoplastic (a proprietary blend) material for stability and offered in your choice of a ready to paint, black primer finish or an Organosol black textured paint finish. The stanchions have been engineered to contain steel inserts for durability. The included mounting components are designed of original materials for specific applications.
If your deck lid panel has not been stamped with 1971 recesses to accept the reinforcement brackets, then you will need to cut recesses into the underside panel of the deck lid prior to mounting a kit. To obtain a factory look, you can order templates (215-FP241).
Note: There are a variety of underside stampings for 1970-74 Barracuda deck lids and the 1971 reinforcement brackets/templates will not correctly fit them all.