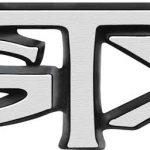 GTX 70 GTX deck 72-74 GTX Fender, Decklid Adhesive back
$55.00
Description
Plymoth GTX Trunk Lid / Rear Seat Emblem Pin-On Style – Continued
Die-Cast reproduction of the original pin-on style GTX emblem installed on the trunk lid and in between the rear seats of 1967 GTX models. OER goes a step further by insuring that the back of the emblem includes all original Chrysler markings, part num bers and insignias when required for total originality.
Manufactured in the USA!
Note: A later version of this emblem was manufactured for use on 1972-74 GTX models. This later version did not have pins, but instead, secured to the v ehicle with adhesive tape. The adhesive-backed version of this emblem is available under item# 3680160.
---
Only logged in customers who have purchased this product may leave a review.