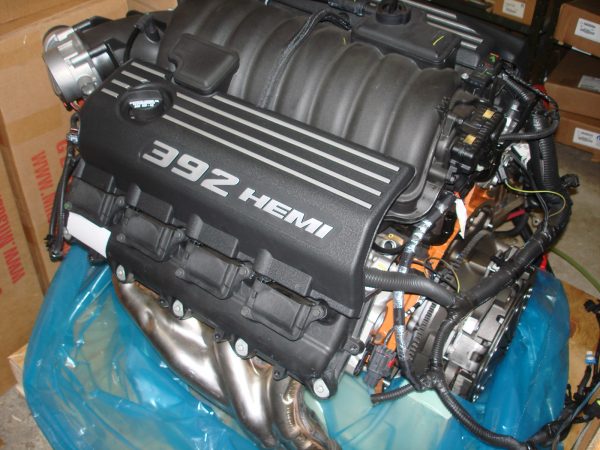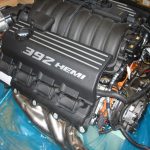 6.4 392 Hemi 485HP Crate Assembly Assembly
$10,060.00
Description
392 HEMI COVERS SOLD SEPARATELY
6.4L CRATE HEMI ENGINE
Step up to the next level of performance with the SRT®
6.4L HEMI engine. With 485 horsepower and 475 lb.-ft. of
torque, this complete engine assembly includes water pump,
fly wheel and clutch, front sump oil pan, intake manifold with
throttle body, fuel injectors and coil packs.
FEATURES:
392 cu. in.
103.9mm Bore
94.6mm Stroke
Cast Iron Block with 4-Bolt Powder Metal Caps
Forged Steel Crank Material
Powdered Metal, Floating Pin Connecting Rods
Hypereutectic Aluminum Piston Material
Nodular Iron Camshaft
Aluminum, Hemispherical Chamber Cylinder Heads
54.3mm Intake Valve Size
42mm Exhaust Valve Size
10.9:1 Compression Ratio
6,400 Peak RPM
comes with production exhaust manifolds
2016 6.4L SRT Engine #68303090AA
These are actual production engine assemblies that have been run through a heat cycle. You will see signs of coolant and exhaust manifold browning. 392 Valve cover covers sold separate.
Freight shipping is to a business and is based and calculated on actual and current rates. NO residential deliveries.
---
Only logged in customers who have purchased this product may leave a review.