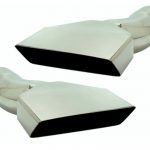 Tip Set 70-74 Cuda 2.5 Stainless
$265.00
Description
Exhaust Tips 70-74 Cuda 2.5 Stainless.replacement stainless exhaust tips for 1970-74 Cuda Barracuda models. 1970-74 Mopar E-Body models were offered with or without exhaust tips. Models fitted with exhaust tips were also fitted with a special rear valence panel that the exhaust tips were specially designed to fit through.
These exhaust tips are perfect if you want exhaust tips that fit well, perform properly and look good for as long as you own your vehicle.
The original exhaust tips were manufactured in mild steel and chrome plated, a design that did not fare well against the elements and most original exhaust tips deteriorated away after just a few years. These exhaust tips are manufactured in high-luster, never-rust 304 stainless steel and with all proper contours to correctly replace the original and offer an authentic appearance.
Original size fits through the rear valance panel on all factory dual exhaust cars. Sold as a pair features a 2-1/2 inches inner diameter
---
Only logged in customers who have purchased this product may leave a review.