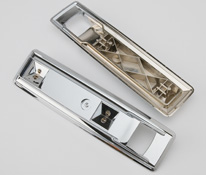 Arm Rest Base 66-70 B-Body Front 13″ Front EXC Charger
$55.00
Description
Correct reproduction of the original front arm rest bases for 1966-70 B-body models. Manufactured with the correct chrome bake for a high gloss mirror finish.
Sold as a pair.
Mopar Authentic Restoration™ Product
Applications:
1966-67 Coronet,
1966-70 Belvedere
1967-70 GTX
1968-70 Satellite
1968-70 Road Runner
---
Only logged in customers who have purchased this product may leave a review.