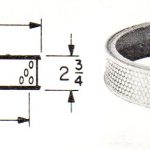 Air Filter Element 4 bbl 340-383-440 Round 13×2.75
$18.00
Description
Air Filter Element, Replacement 13 x 2.75 fits
1968-69 340, 383 and 440 4-Barrel unsilenced except early 1968 models. Mopar Performance reproduced these in black wrinkle (P4529001) and chrome (P4529002 or P4529025) but factory units were always black wrinkle. 121-69 assembly AND 1970 383 and 440 4-Barrel. Note that breather hose comes off back of unit. Snorkels have straight crease line on their right and left side. 1972 air cleaners are very similar but have a curved crease line or hump on right side of their snorkels. 1970-72 340, 383, 400 and 440 4-Barrel with fresh-air hood for B-body. These look very similar to the oval lid 4-Barrel air cleaner but is totally different. There is a drain pan recess at the front with tubes where you fit drain hoses that hange over the valve covers. There is also just one stud to hold the lid on. The lid is unique as well, it hangs down to cover the top part of the filter to protect it from rain when the air door is open.
---
Only logged in customers who have purchased this product may leave a review.