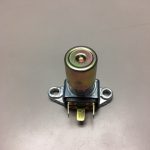 60-76 Mopar A / B / E Body Floor Mount Dimmer Switch
$18.00
Description
1960-76 Mopar A / B / E Body Floor Mount Dimmer Switch
Flickering or non-functional headlamps could be the result of a burned out dimmer switch. Headlamp dimmer switches allow the driver to select and alternate between high and low beam headlamp illumination.
After years of continuous service and use, it is not uncommon for a dimmer switch to fail suddenly and unexpectedly. Mounts to the floor.
Applications: 1960-76 Mopar A, B & E-Body
---
Only logged in customers who have purchased this product may leave a review.