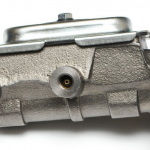 1967-70 B And C-Body Manual/Power Drum Master Cylinder
$85.00
Description
Our replacement hydraulic brake master cylinders use aluminum (when applicable) or cast iron castings for an exact match to your vehicle's original equipment.
Technologically advanced components ensure safe and reliable braking. With this quality replacement cylinder, you can be certain that it will perform as good as your original.
Note:Gaskets are not included.
Applications:
With Manual Drum Brakes
A-Body:
1967-70 Valiant
1967-70 Dart
1964-69 Barracuda
1970 Duster
1969-70 Swinger
B-Body:
1967-70 Charger
1969 Daytona
1967-70 Coronet
1968-70 Super Bee
1967-70 Belvedere
1967-71 GTX
1967-70 Satellite
1968 Road Runner
1970 Superbird
E-Body:
1970 Barracuda
1970 Challenger
1970 'Cuda
With P ower Drum Brakes
B-Body:
1967-70 Charger
1969 Daytona
1967-70 Coronet
1968-70 Super Bee
1967-70 Belvedere
1967-71 GTX
1967-70 Satellite
1968 Road Runner
1970 Superbird
E-Body:
1970 Barracuda
1970 Challenger
1970 'Cuda
With Power Disc Brakes
A-Body: