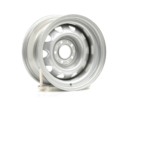 Wheel Vintiques 56 Series Chrysler Rallye Silver Wheels 15X7
$171.00
Description
Wheel Vintiques 56 Series Chrysler Rallye Silver Wheels
Don't settle for some second-rate wheel for your muscle car. Get the right one from Wheel Vintiques. These 56 series Chrysler Rallye wheels are identical to the OEM Mopar wheels in every way, and they feature the same factory silver finish. Best of all, the stock Mopar accessories fit these wheels.
15 in.
Wheel Width (in.):
7.000 in.
Wheel Size:
15×7
Wheel Bolt Pattern (application):
5 x 114.3mm|5 x 4 1/2 in.
Wheel Material:
Steel
TPMS Sensor Compatible:
Yes
Primary Wheel Color:
Silver
Wheel Finish:
Gloss
Manufacturers Wheel Series:
Wheel Vintiques 56 Series
Offset:
+6.00mm
Backspacing (in.):
4.250 in.
Wheel Construction:
2-piece
Beadlock Included:
No
Beadlock Functional:
No
Lug Nut Seat Style:
Conical seat – 60 degree
Hub Centric Ring Compatible:
No
Center Bore Diameter (in.):
2.750 in.
Center Bore Diameter (mm):
69.85mm
Center Cap Included:
No
Lug Nuts Included:
No
Small Diameter Lug Nuts Required:
No
Valve Stems Included:
No
Quantity:
Sold individually.