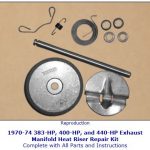 Heat Riser Kit 70-72 Big Block 383 400 440 less pins
$95.00
Description
High-quality reproduction 70-72 383HP-400HP-440HP Exhaust Manifold Heat Riser Repair Kit
The High Performance Engines Used a Different Heat Riser Due To the Larger Diameter of the Exhaust Manifold
Most Exhaust Manifolds Heat Risers Are Missing, Frozen Or Are Broken.
They're Correct with All Factory Markings.
They Have All of the Pieces and Parts Needed Including Detailed Instructions On How to Install
This Fits in the Right (Passenger) Side Exhaust Manifold Just Like the Originals!
The shaft is about a 1/4 inch off from original. You will have to knock the pin through the weight to make the difference. These do work
---
Only logged in customers who have purchased this product may leave a review.